Give your house a dramatic makeover with durable, maintenance-free siding
Of all the different exterior home siding choices available today, vinyl siding stands out for the excellent value it offers. The vinyl material sheds moisture rather than absorbing it. Vinyl siding also does not support mold or mildew growth and won't succumb to moisture damage.
Vinyl siding is designed to look good for many years, retaining its original color despite extreme exposure to the elements. This siding product also delivers impressive performance without requiring any maintenance. Your installation expense is your only expense.
New siding, along with a well-maintained roof, can increase your home's value and dramatically improve your home's curb appeal. H&H Roofing and Restoration is your one-stop source in Eastern Kansas and Western Missouri for all of your roofing and siding needs! We specialize in quality vinyl siding installation in Kansas City, Overland Park, Independence, Olathe, Lawrence and nearby.
Call us or fill out the form for your Free Estimate for roof repair, home siding installation, roof replacement and other roofing services in Kansas.
Don't forget new windows!
Old windows stand out like a sore thumb when a house gets new siding. Older windows also waste energy, compromise interior comfort and require regular painting. For the ultimate exterior makeover, consider having replacement windows installed along with your new siding.
Having new windows and siding installed at the same time will likely cost less than having the two projects done separately, especially if both are completed by the same contractor.
With possible features like low-e, argon-filled insulated glass and advanced vinyl construction, you'll get maximum energy savings and totally maintenance-free windows.
Vinyl siding can look as good as real wood shingles and shakes
Made primarily from PVC (polyvinyl chloride) resins, vinyl siding was first manufactured in the 1950s, but the widespread use of this siding material didn't begin until the late 1970s.
Vinyl siding offers the advantages of zero maintenance, immunity to mold and moisture damage and plenty of styles and colors to choose from.
In better-quality vinyl siding, a wood-grain surface texture can make the product look surprisingly like real wood. Better grades of vinyl siding also tend to be thicker, for improved rigidity and greater impact resistance.
Because PVC expands and contracts significantly in response to temperature changes, it can't be solidly nailed to wall sheathing. Instead, each course of siding "floats" on slotted nailing fins.
Here at H&H Roofing and Restoration, we can install home siding to suit your style and budget. Contact us today to get started!
Foam insulation can provide energy savings when installing new siding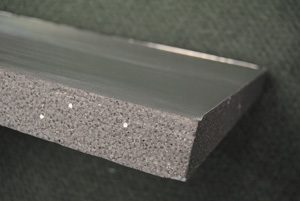 If you're planning on replacing your siding or need siding for a new construction job, it's smart to ask about rigid foam insulation that can be installed beneath or integrally with the siding.
Rigid foam insulation is made in different thicknesses and comes in large panels.
This added layer of insulation improves the R-value of your exterior walls, helping your house to retain heat during winter months, and keeping heat out during the hotter months. A layer of rigid foam insulation can be installed beneath the new siding, or you can buy your siding with the foam already attached to each siding course or panel.
Well-crafted trim details complete your exterior transformation
Recent Testimonials
"We were referred by several friends in Independence to H&H Roofing and restoration when replacing our roof. They did not disappoint. Josh did exactly what he said he would do and made sure my house was put back together correctly and very timely."
Kathy of Independence, KS
The overall impression created by new siding is as much about trim details as it is the siding itself. In a truly professional installation, the corner trim, J-channels, soffit panels, gutters and downspouts all look good together. Compatibly colored caulks and sealants should also be used. Make sure to discuss these details along with your siding choices when planning your new siding installation.
We are Eastern Kansas and Western Missouri's expert roofing contractor, working in Overland Park, Independence, Olathe, Lawrence, Kansas City, Lenexa, Spring Hill, Leavenworth, Blue Springs, Shawnee and many nearby towns and cities throughout Kansas. For a vinyl siding price estimate, contact H&H Roofing and Restoration by phone at 1-620-332-9249 or contact us online today!